Export volume of IT Park residents proceeds a steady growth
According to the results of the 1st quarter of 2022, the total volume of services provided by residents amounted to 814 billion soums (for comparison: an increase over the same period made up 186%).
The export volume of IT Park residents increased by 3.5 times compared to the last year and amounted to $17.3 million. At the same time, 85.2% of the exports of residents fall to the share of the United States, the rest to the UK, Korea, the CIS and the UAE. By the end of 2022, exports are expected to reach $100 million.
In the first quarter of this year, the number of IT Park residents amounted to 588 companies, which is 130% more than the previous quarter. The residents are engaged in the following areas:
• software development;
• data processing;
• business processes automation;
• IT and IT export training.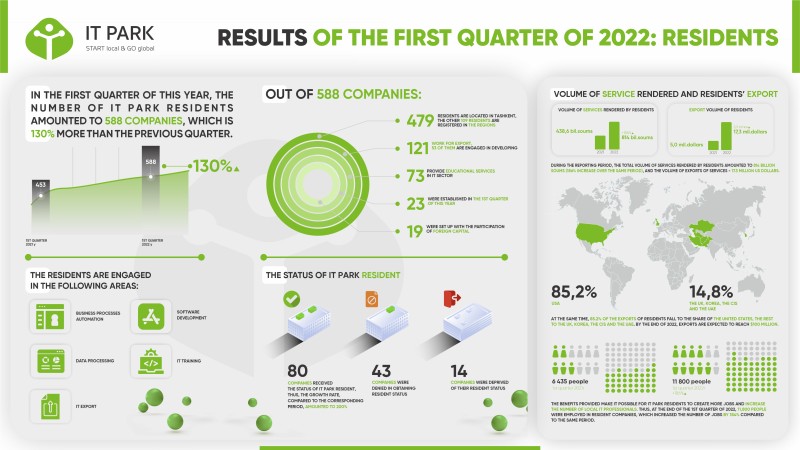 Out of 588 companies:
- 479 residents are located in Tashkent, the other 109 residents are registered in the regions;
- 23 companies were established in the 1st quarter of this year;
- 73 companies provide educational services in IT sector;
- 19 companies were set up with the participation of foreign capital;
- 121 companies work for export, 53 of them are engaged in developing.
In the first quarter, 80 companies received the status of IT Park resident, thus, the growth rate, compared to the corresponding period, amounted to 200%.
At the same time, 14 companies were deprived of their resident status, and 43 companies were denied.
We remind you that IT Park residents are IT companies and IT education centers that can receive a number of significant benefits:
• income tax — 7.5%;
• corporate tax — 0%;
• universal credit — 0%;
• no customs payments when importing goods for own needs
The benefits provided make it possible for IT Park residents to create more jobs and increase the number of local IT professionals. Thus, at the end of the 1st quarter of 2022, 11,800 people were employed in resident companies, which increased the number of jobs by 184% compared to the same period.