8 October 2020, Tashkent - The fifth cycle of the youth innovative ideas and startup support programme called «Startup initiatives», which has been conducted online, has beaten up all the results of previous cycles of the programme by number of applications received.
From 17 August to 20 September 2020, applications were accepted for the fifth cycle of the support programme. This year, 905 applications were received for the programme. This is 38% more than in the previous years. The total number of youth participating in the projects, including team members, is 1,972. Young women (559) are 2.5 times less than young men (1,413).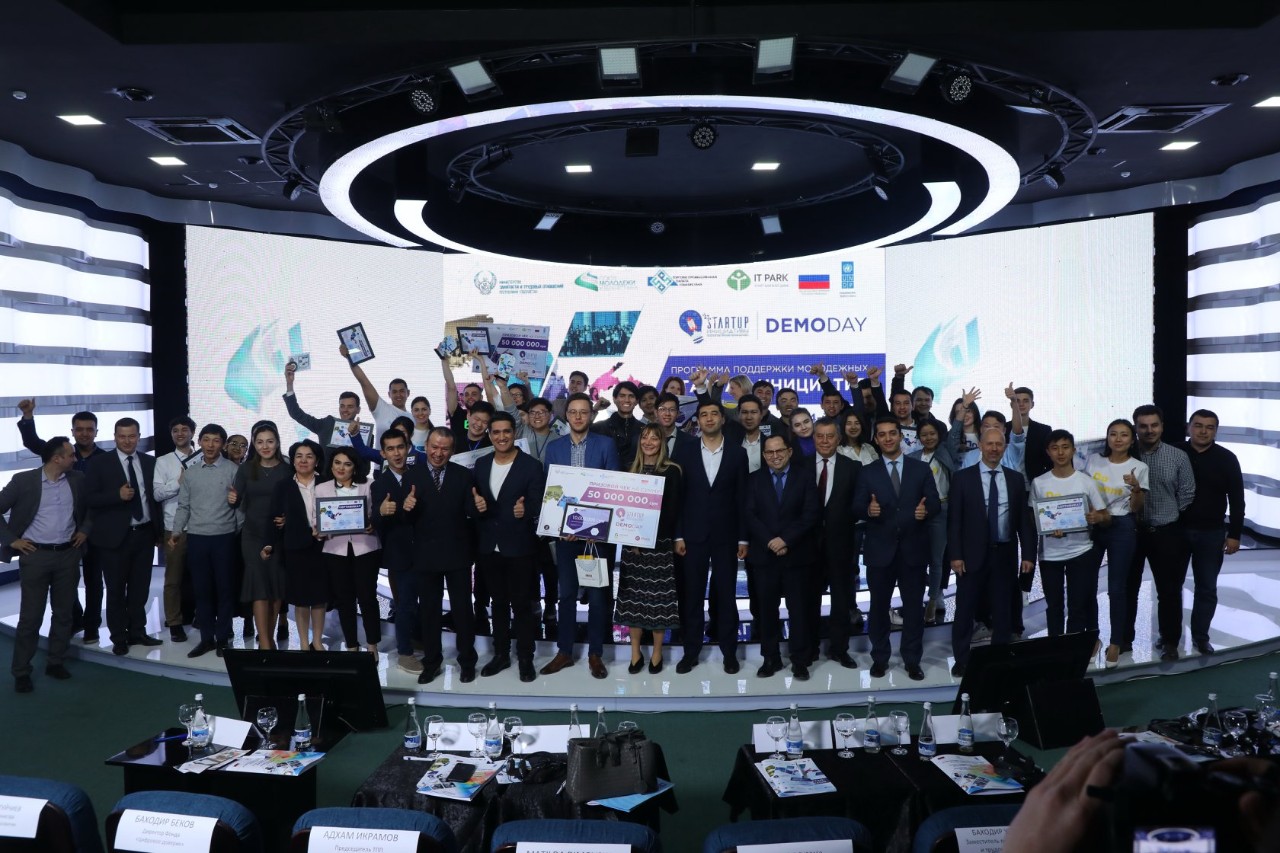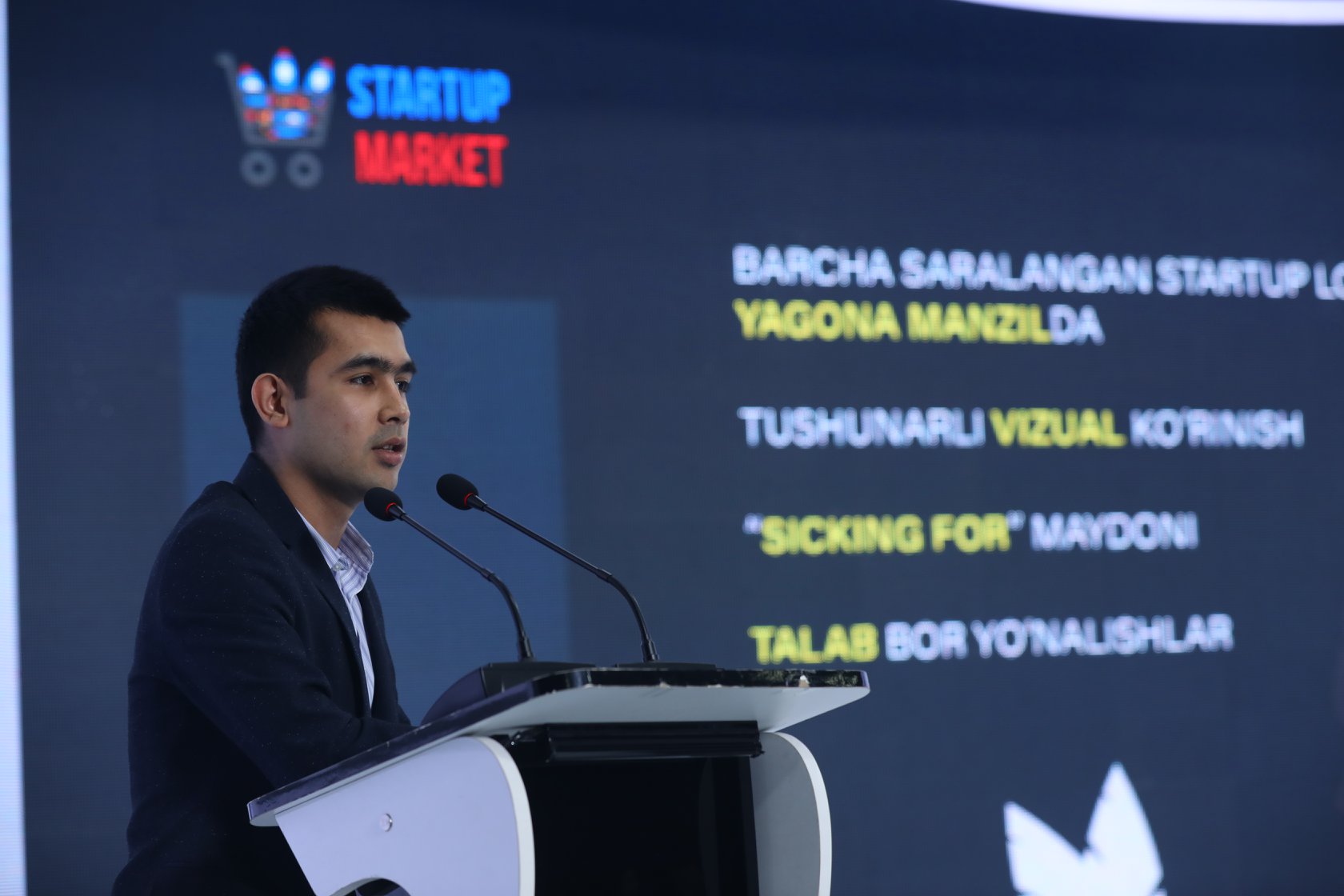 Tashkent and Tashkent region (253), Samarkand (127) and Navoi regions (92) are the regions with the highest number of applications. The Republic of Karakalpakstan (24), Surkhandarya (22) and Syrdarya provinces (19) sent the lowest number of applications.
As before, participants were given the opportunity to apply in one of three languages: Uzbek, Russian and English. It is pleasant to note that the number of applications in English are increasing from year to year.
An analysis of the age of team leaders showed that 352 applications (39 per cent) are young people between 21 and 25 years old. The lowest number of applications (55) came from people over 36 years of age, or 6 per cent.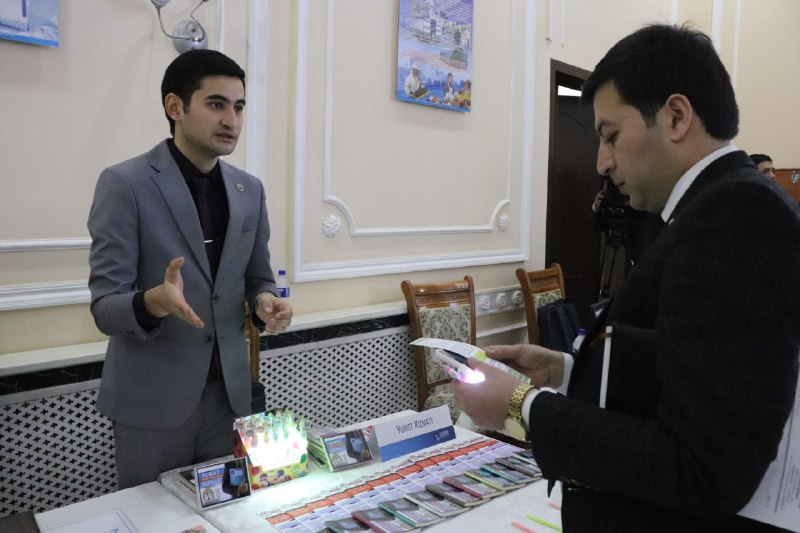 The largest number of applications was submitted by the students and teachers of Tashkent University of Information Technology (38), Westminster International University in Tashkent (27), the Tashkent State Agrarian University (20), The University of Inha in Tashkent (18) and the Tashkent State University of Oriental Studies (18).
The scope of the project areas was very wide, but the most popular were Trade and Services (67), Tourism and Hospitality (54), Medical, Pharmacological and Biotechnology (47).
The support programme is a short-term intensive course to train and support development of innovative ideas and startup projects of youth, and is aimed at accelerated testing of the viability of innovative ideas, creation of minimum viable products, testing business models, developing innovative entrepreneurship skills among young people.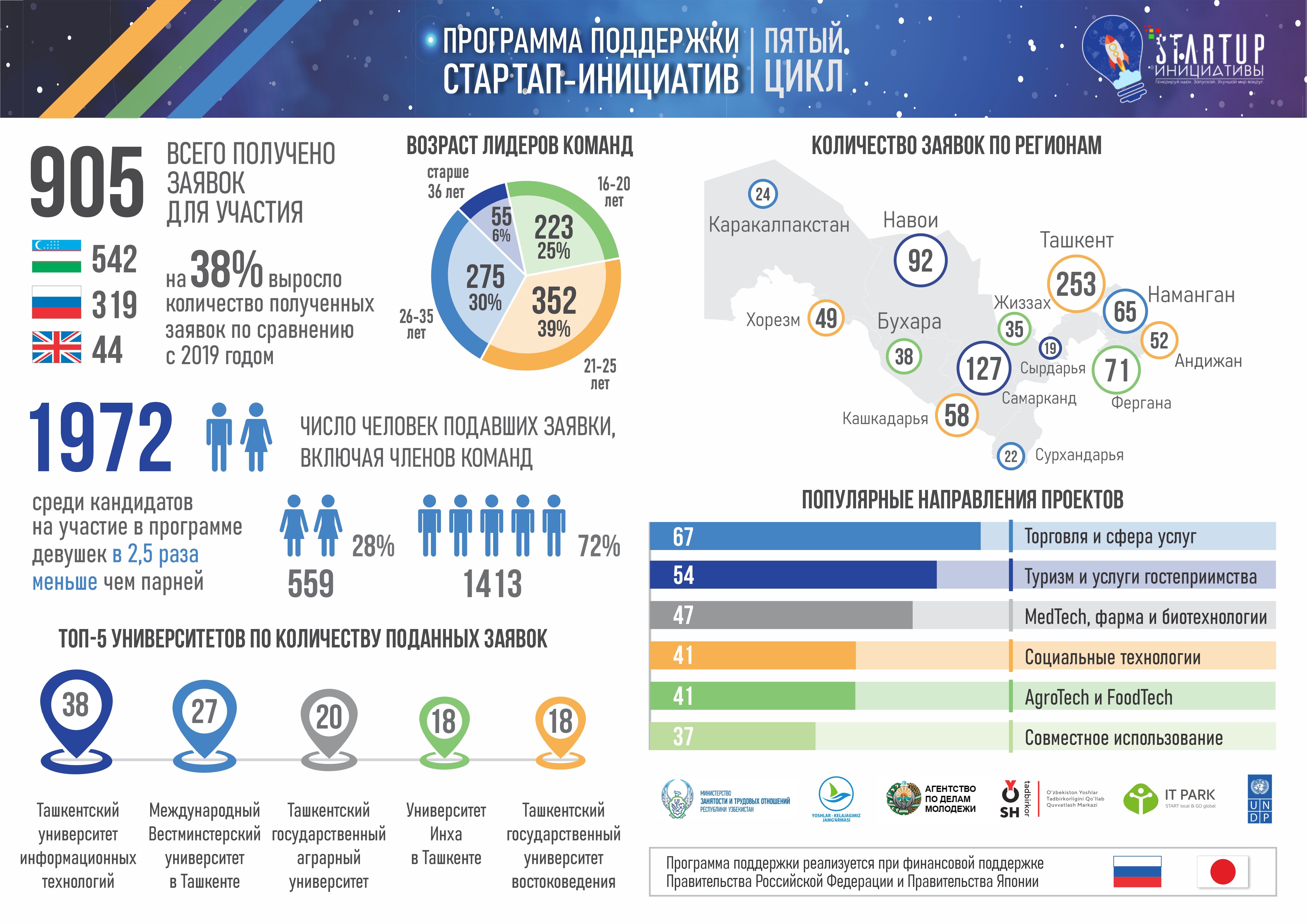 The fifth cycle of the support programme is being implemented within the framework of the joint project of the United Nations Development Programme and the Ministry of Employment and Labour Relations «Promotion of youth employment in Uzbekistan», financed by the Government of the Russian Federation.
The program is implemented in cooperation with the Agency for Youth Affairs, «Yoshlar-kelajagimiz» Foundation, Youth Entrepreneurship Support Center of Uzbekistan, Technology Park of software products and information technologies (IT Park) and their territorial departments.
The best 40 projects on the basis of the results of the final presentations will receive targeted grants of up to 50 million sum for realization of their startups (up to 3 projects from each province and up to 10 projects from the city of Tashkent). Grants are awarded by the «Yoshlar-kelajagimiz» Foundation and the UN Development Programme in Uzbekistan from the funds provided by the Government of Japan to mitigate the consequences of the pandemic outbreak.

Taken from the source: https://www.uz.undp.org/content/uzbekistan/en/home/presscenter/pressreleases/2020/09/startup-initiatives-support-programme--fifth-cycle-has-beaten-al.html