Tashkent enters top-5 cheapest cities in the world. What does it mean for foreign IT specialists and IT companies?
According to the annual research of analysts "Economist Intelligence Unit" of the British magazine "The Economist" in 2020, Tashkent entered the top-10 cheapest cities in the world.

But what does this mean for foreign IT specialists and IT companies?
Let's start with the first one. For foreign IT specialists who are looking for the most profitable place to live and work, Tashkent can become one of the most optimal cities to choose.
Why?
First of all, this is mainly because the prices for goods and services in Tashkent are much cheaper compared to prices in cities. IT professionals do not have to waste extra money and worry about prices.
Rending a two-room apartment in Tashkent starts from $200 The price naturally depends on the area you want to live in.
For example, in Minsk, rental prices for a two-room apartment start from $400 and up. In Moscow, you can rent an apartment from $ 500- $550 per month. One-bedroom apartments in Nur-Sultan are rented for an average of $400.
According to dw.com reports, the consumer basket, which includes expenditure of food, as well as spending on non-food products and services in Russia, starts from $150 per month and can reach up to $ 280 per month,.
According to kursiv.kz reports, the size of the subsistence minimum - the amount required by the Kazakhstani to meet basic needs, in 2020 ranged from $ 80 per month.
According to the website myfin.by, in Belarus, the size of the consumer basket was $ 210 per month in 2020.
If we compare it with Uzbekistan's "consumer basket", it is about $80- $90 per month. (https://www.spot.uz/ru/2020/11/10/basket/)
The Internet in Tashkent and in Uzbekistan as a whole will also not be a problem for foreign IT specialists as it is also cheap here. Moreover, while observing the development of the Internet in Uzbekistan in recent years, we may notice that the quality of the Internet has improved drastically.
Let's have a look at the history of the Internet's development in Uzbekistan.
In 2013, the capacity of the international data transmission network was only 7 Gbps. Over the course of 3 years, the level, of course, changed, but only slightly. Therefore, in 2016, the access speed was 25.7 Gb / s. In several years, there has been a drastic increase in this figure. 2017 became a kind of impetus for the development of the Internet. Certainly, since 2018, the Internet has "jumped" several heads higher and has reached the standard of 1,200 Gbps. Consequently, the throughput of the external Internet channel of Uzbekistan was increased by 10 times at the end of 2018.
In 2020, the Internet kept its bar and maintained 1,200 Gbps. Today, this fully meets the needs of Internet users, as well as providers and operators in the country.
What about the prices?
During 2019, the tariffs for the external channel of operators and providers connected to the International Packet Switching Center were reduced from 85 thousand soums to 70 thousand soums ($ 7) per 1 Mbps (a decrease of 17%).
From January 1, 2020, tariffs were expected to reduce for 1 Mbit / s by 20%. The plan was exceeded, and the tariff for the external Internet channel of operators and providers was reduced by 34%.
According to the reports of belmarket.by, at the end of 2019, users in some Eastern European countries paid for 100 Mbit / s: Ukraine - $6.19, Russia - $7.68, Moldova - $9.66, Belarus - $12.96 per month.
At the moment, the cost of 100 Mbit / s in Uzbekistan is on average $9 per month.
Are there extra benefits?
Definitely, there are. If we consider Tashkent as a place of residence, then, as noted earlier, almost everything depends on cheap prices: cheap clothes, food, utilities, and a large number of markets, shops, cafes, attractions, restaurants and other places where you can buy clothes, delicious eat, or a place to relax.
When it comes to food, in Tashkent there are a variety of national and European, Asian, Pan-Asian and other cuisines. Tasty and cheap food, stylish and inexpensive dress - this is about Tashkent.
We are not going to talk about the rich and ancient culture of the capital and the country as a whole, about its rich history, the hospitality of the Uzbek people, antiquity and modernity, united in one city. All of them are worth seeing with your own eyes.
Is Tashkent open to foreign IT companies?
Yes, and not only Tashkent. IT Park keeps its doors open for IT companies that want to launch their branches in Tashkent and other regions of Uzbekistan.
IT companies can confidently open their branches in Tashkent and become residents of IT Park.
Why to open IT companies branches in Uzbekistan and become a resident of IT Park?
There are several benefits of becoming a resident of IT Park for both local and foreign IT companies, and they are:
-Income tax - 7.5%
-Corporate tax - 0%;
-Social tax - 0%;
- Exemption from payment of customs duties when importing goods and services for one's own need.
While taxes for non-residents of IT Park are:
-Income tax - 12%
-Corporate tax - 5-10%;
-Social tax - 12-25%;
-There are customs payments when importing goods and services for one's own need.
In comparison, the Belarus Hi-Tech Park's income tax for residents and non-residents of the technopark is 13%. Income tax is 0%, but 1% is added to the turnover (HTP collection).
Moreover, in addition to the tax and customs benefits, IT Park provides residents with modern infrastructure, laboratories, marketing, legal and other consulting services.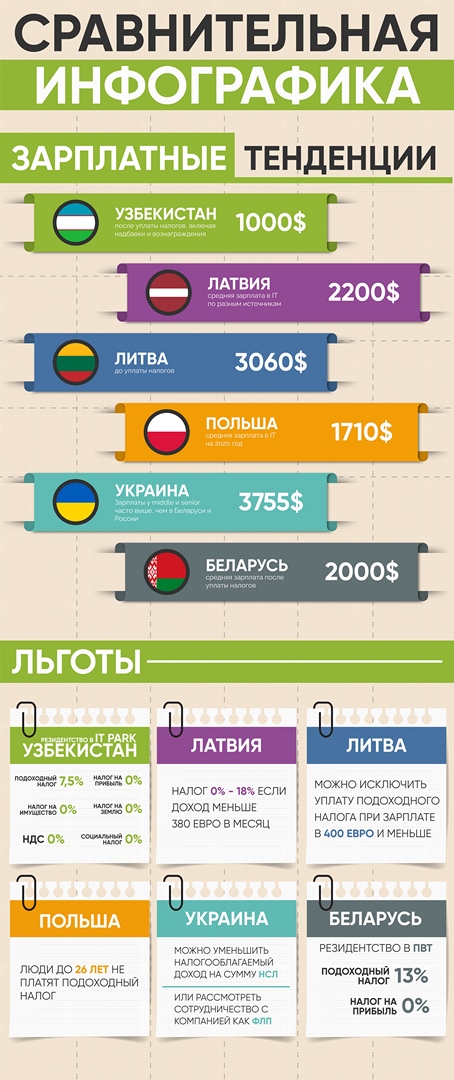 Currently, 14 out of 403 IT Park residents are foreigners. A number of foreign residents in IT Park include IT companies of countries such as the United States, Russia, Azerbaijan, Slovakia, Korea and Tajikistan.
And what about local IT specialists and IT companies?
Further development in the local market and export of IT services. The concept of ​​moving to another country for a better life sounds, of course, awesome, but is everything really cool abroad?
"It's good where we are not present" - and it is better to try to realize yourself here as you can always have time to leave. And why leave if you can work, taking orders from abroad, while staying here? At the same time, getting the same money that customers would pay you "there", and reducing your additional expenditure. You are an "IT specialist", who else, if not you, understands it better than anyone? It is profitable for IT specialists to stay and earn money, literally, without leaving home, provided that there is Internet and a computer at home, and experience and knowledge in their heads.
But, of course, it's up to you to decide.
Why live and work "there" if you can work "there" while living in Tashkent?