The IT Park Futsal Cup 2023 has commenced
On September 16th, the IT Park Futsal Cup among resident companies began. The tournament features the participation of 32 teams, which have been divided into 8 groups.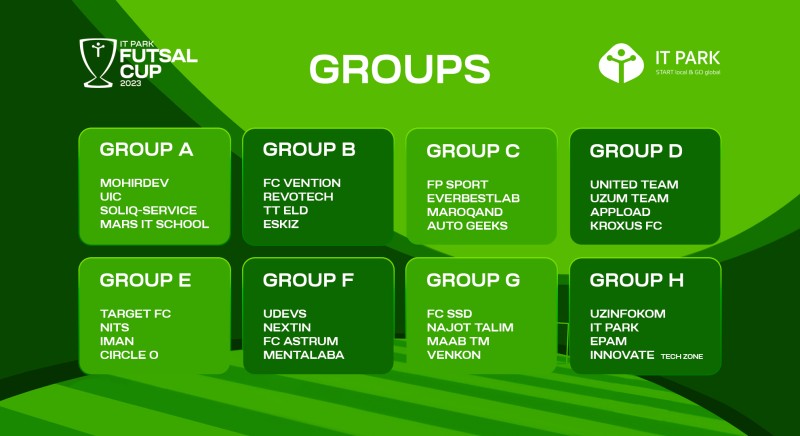 On Sunday, the IT Park team defeated the Uzinfocom team with a score of 3:0, taking the lead in the tournament table with three points. Our group H opponents, the EPAM and Innovate teams, played to a 3:3 draw.
The composition of our team includes:
Fayzulla Aripjanov

Humoyun Sultonov

Azamat Djuraev

Azamat Seydaliev

Azizbek Djuraev

Ummet Miedinov

Bahodir Mirkhashimov

Abduvokhid Khamraev

Bayozbek Yangiyev

Shokhrukh Abdullaev

Nizomiddin Bakhriddinov

Chingiz Saparbaev

Adham Ubaydullaev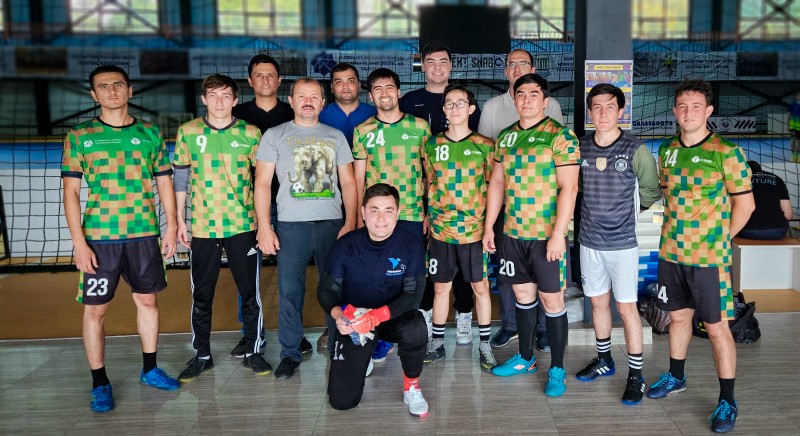 Results of the first round in other groups:
A guruh
MOHIRDEV 2 : 2 UIC
SOLIQ-SERVICE 2 : 7 MARS IT SCHOOL
B guruh
REVOTECH 2 : 0 VENTION
TT ELD 3 : 3 ESKIZ
C guruh
MAROQAND 5 : 3 AUTO GEEKS
FP SPORT 2 : 1 EVERBESTLAB
D guruh
UNITED TEAM 2 : 8 UZUM TEAM
E guruh
IMAN 4 : 7 GRAYSCALE (?)
TARGET FC 0 : 3 NITS
F guruh
UDEVS 1 : 1 NEXTIN
G guruh
FC SSD 2 : 7 NAJOT TA'LIM
The KROXUS FC, MENTALABA and MAAB TM teams withdrew from the competition.
The standings after the first round look as follows: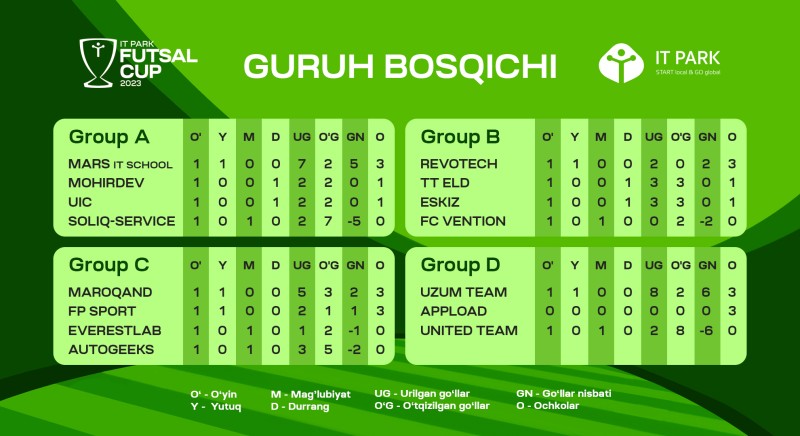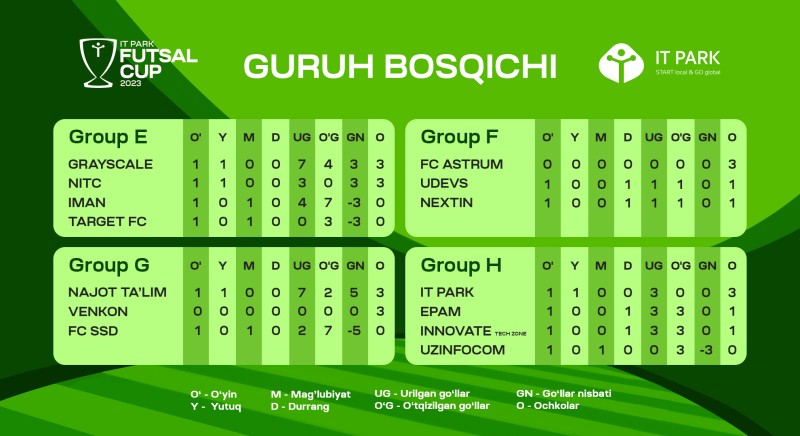 To follow the live matches live and learn more about the tournament on the IT Park Futsal Cup channel.