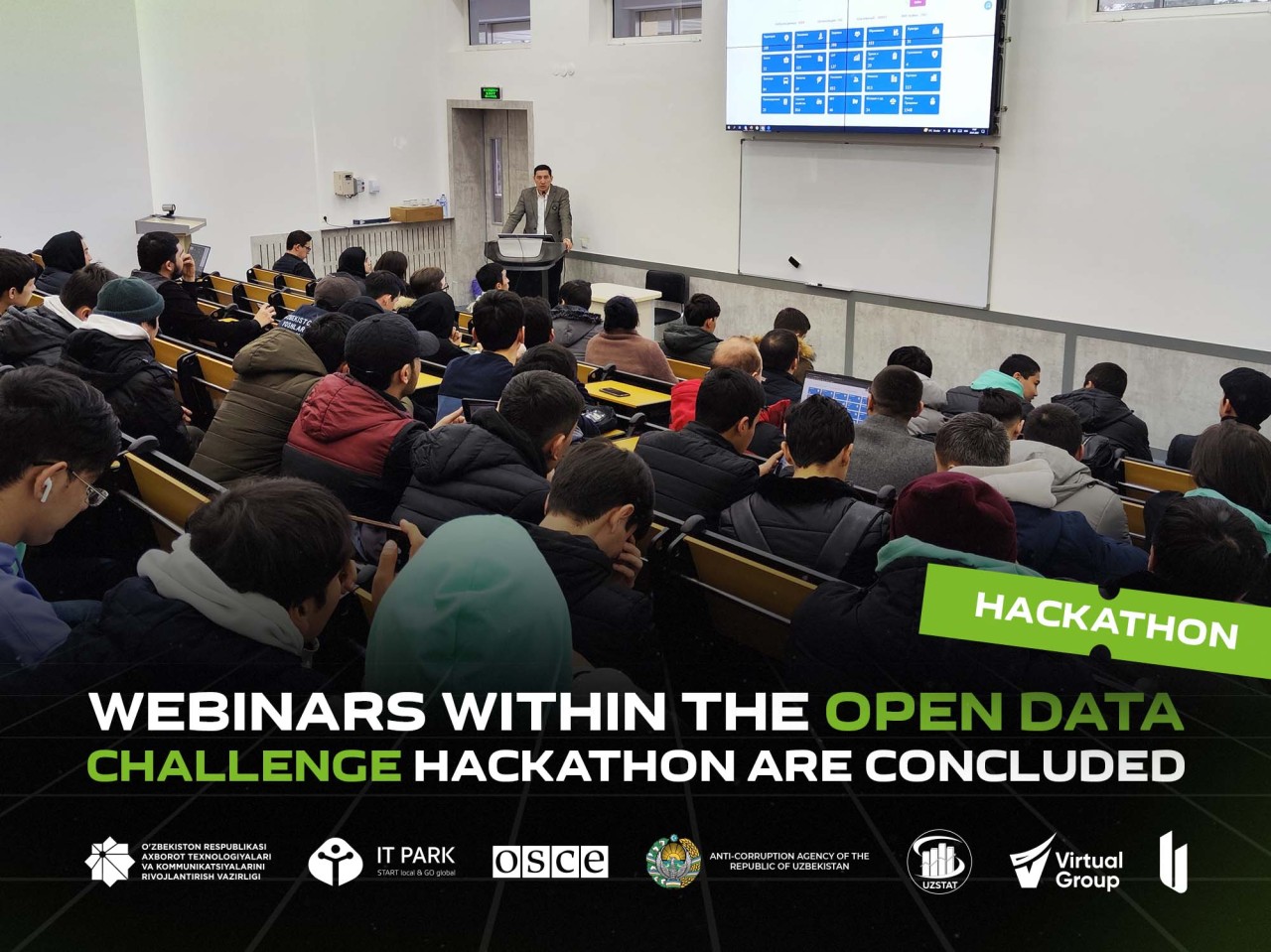 Webinars within the Open Data Challenge hackathon are concluded
From January 27 to 29, the Open Data Challenge hackathon will be held in the capital city. As part of the upcoming Open Data Challenge 2022 hackathon, special webinars were held from January 17 to 20 with involved experts on the use of open data, and a workshop was held on January 24.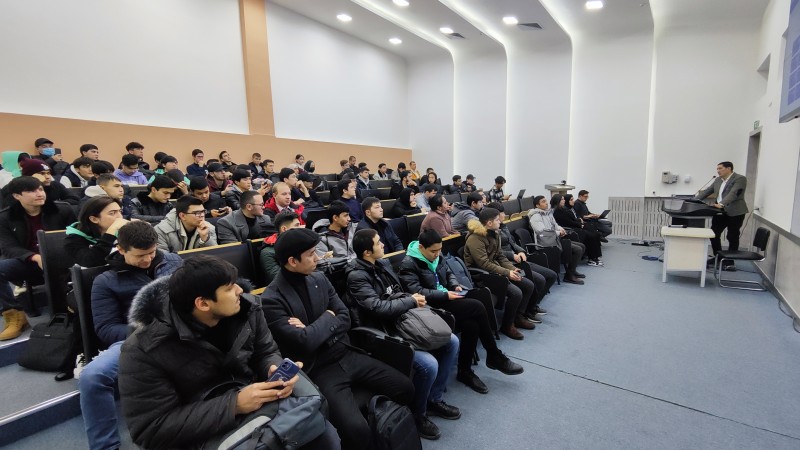 Topics were divided into 4 days:
"Formation of open data through work with government agencies. Using open data to solve problems in the public sector" (the speaker — Head of the Department of Monitoring and Coordination of the Open Data Portal of the Statistics Agency under the President of the Republic of Uzbekistan Akrom Sultanov);

"Existing problems in the sector, existing social projects, where and what open data can be used in project development" (the speaker — Chairman of the Board of the Association of Internet Entrepreneurs of e-Commerce of Uzbekistan, founder of the digital platform unions.uz, beginner tracker, Pro bono volunteer Sabina Akbarkhojaeva);

"Using open data to create a startup in the field of AI" (the speaker — CEO at Mohirdev.uz Anvar Narzullaev);

"What are the problems in the field of anti-corruption and what solutions have already been made with the help of open data?" (the speaker — Chief Inspector of the Department for Ensuring the Openness of State Bodies and Organizations Kakhramon Niyazkhajaev).
Each webinar was attended by 40 to 50 participants.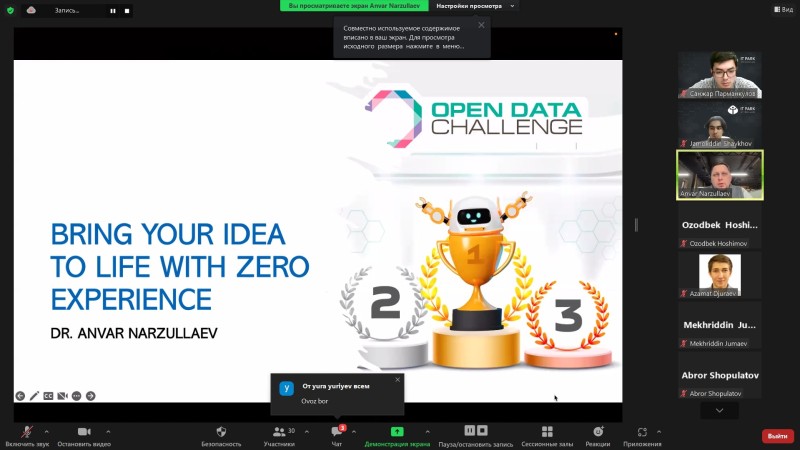 The workshop was held at the Tashkent State University of Economics (TSUE). The event was attended by about 80 people. The speakers were the Head of the Department for Expertise of Design and Technical Documentation of the State Institution "E-Government Projects Management Center" Maksumov Daniyar, CTO and co-founder of "MODME" Ruslan Yuldashev. They clearly showed and talked about open data with examples.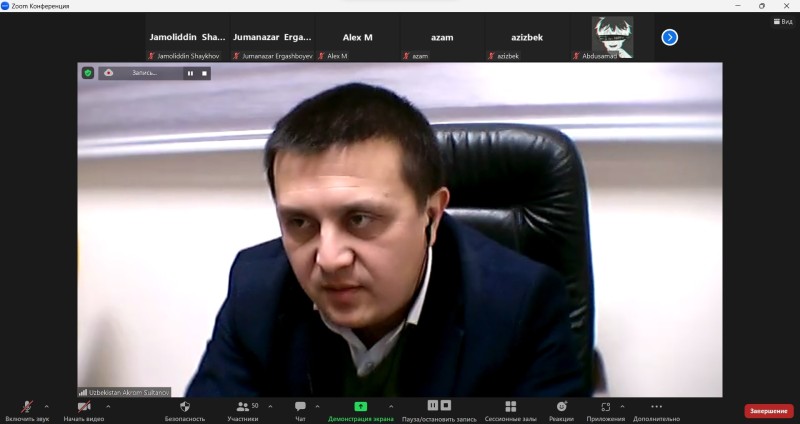 The hackathon will be held from January 27 to 29 at AKFA University. Recall that the Open Data Challenge hackathon is organized by IT Park together with the OSCE Project Coordinator in Uzbekistan and the IT company "Virtual Group" with the support of the Statistics Agency under the President of the Republic of Uzbekistan, the Anti-Corruption Agency and Akfa University. Also, experts from such organizations as Uzum, Geoalert, GDG and others are invited as mentors.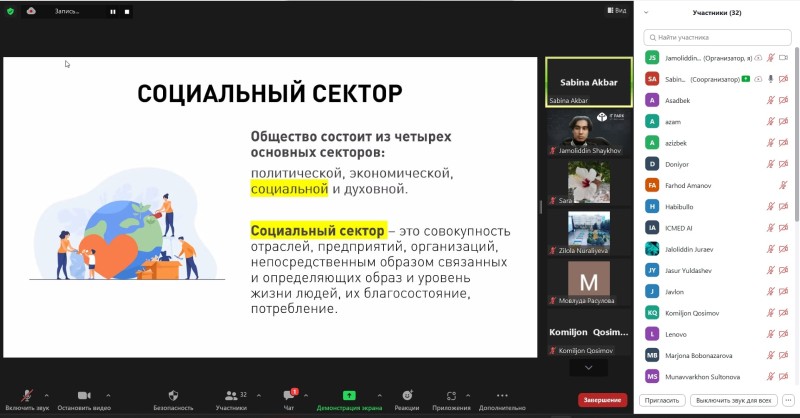 To date, 281 teams have registered for participation (each team has from 1 to 3 people). Tashkent turned out to be the most active – 141 applications, followed by the Tashkent region – 34. In the context of other regions, the indicators were distributed as follows:
Andijan region – 17

Bukhara region – 5

Jizzakh region – 7

Kashkadarya region – 19

Navoi region – 3

Namangan region – 11

Republic of Karakalpakstan – 7

Samarkand region – 12

Surkhandarya region – 5

Syrdarya region – 10

Fergana region – 9

Khorezm region – 1
According to the directions, the applications were distributed as follows:
public sector (44 applications)

social sector (100 applications)

business sector (110 applications)

anti-corruption (27 applications)
The average age of registered participants was 22 years.