Press conference: what did IT Park achieve in 2022?
On February 23, a press conference was held at the Agency for Information and Mass Communications dedicated to the results of IT Park activities for 2022 and the $1 million Presidential Competition.
The conference was attended by Deputy Minister of Digital Technologies Rustam Karimjonov, Advisor to the Minister Kamola Sobirova, Director of IT Park Uzbekistan Farhod Ibragimov, First Deputy Director Abdulahad Kuchkarov, Deputy Director for Innovation Jahongir Radjabov, Deputy Director for Development of Digital Education Makhliyo Muksinova, Head of the Communications Department Jamilya Khalibayeva and others.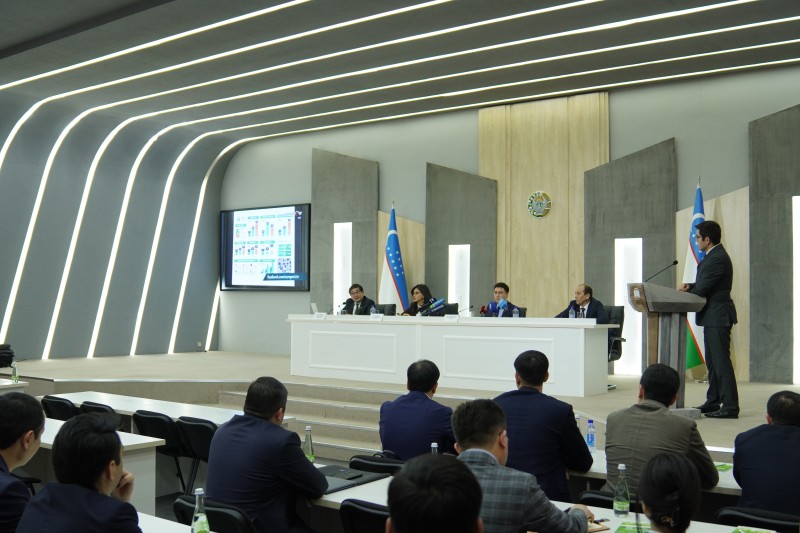 Rustam Karimjonov made a speech in which he spoke about the activities to create an ecosystem of digital education, attract young people to this area and support their interests.
So, today IT universities, such as the Tashkent University of Information Technologies named after Muhammad al-Khwarizmi and 6 of its branches, Inha and Amity Universities in Tashkent train more than 29 thousand highly educated personnel in more than 35 specialties.
In 2023, in the case of employment of their graduates in companies exporting IT services, a mechanism will be developed to subsidize training centers up to 25 million sums for each specialist and up to 35 million sums for young people with disabilities.
In addition, measures will be taken to introduce a system for selecting talented youth, additional training and preparation for the international labor market.
Kamola Sobirova, Advisor to the Minister for the Development of Information Technologies and Communications of Uzbekistan, noted that the presence of women in the IT-sector of Uzbekistan has significantly increased, and new opportunities have opened up in this direction and new projects have been launched.
In April 2022, IT Park, jointly with USAID, with the support of Digital Technologies Ministry, launched IT Women - Karakalpakstan, an ICT training program for females in Karakalpakstan. As part of the project, 60 women and girls received free educational training (30 women took courses in graphic design and 30 in SMM).
In June 2022, IT Park and UNICEF launched a joint project "Skills4Girls", a program for IT training for girls from 12 to 18 years old, including girls with disability. On December 2, 2022, the project was completed. 214 participants, including 70 girls with disabilities have gone through educational training courses within the digital literacy program.
On July 19, a new project, IT club for women named "GAP" was launched in Tashkent pursuing the goal of tackling the issue regarding the shortage of women's presence in the IT industry. Within the framework of the club, three meetings with the participation of special guests and experts took place so far.
From November to December, Tashkent hosted the Digital Internship Program (DIP), an internship for female IT graduates and entry-level young professionals. As part of it, 53 girls got the opportunity of internships in IT companies. 23 of these girls got a job, and the rest were able to extend their internships in companies.
IT Park and Astrum IT Academy have implemented a joint project in Bukhara as part of the OSCE program to improve skills in IT and digital marketing for women entrepreneurs. Program offered educational training in IT and computer literacy for 150 women entrepreneurs, and 90 participants were admitted to the second stage of advanced training to learn more about IT tools in e-commerce and digital marketing.
June 2022 is marked as the significant year for startup industry: one of the largest IT Park projects aimed at developing and supporting women's startups, Tumaris.Tech, became the winner of the World Summit on the Information Society Forum 2022 (WSIS 2022).
The project was implemented jointly with USAID, and in 2022 it got to the Central Asian stage. The success of the women's project was marked by an international prize: this year "Tumaris.Tech" was named the best international project in "Capacity building" nomination by the International Telecommunication Union (ITU). For the entire period of the project's existence: over 200 students took IT courses; 113 startup projects implemented; 70 people got educated in investment; 30 got trackers course; 68 people developed prototypes at hackathons.
The head of IT Park Farhod Ibragimov made a report on the achieved goals of the organization for 2022 and shared his plans for 2023. He noted that today the activities of IT Park are aimed at creating new projects for the development of the IT-industry in Uzbekistan, and 2022 was marked for the organization with particular success and achievements.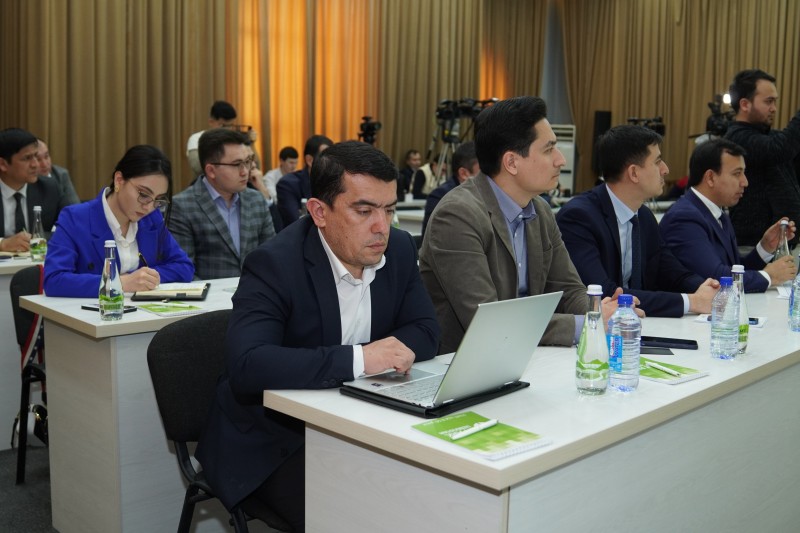 Achievements in IT education
In 2022, IT Park, jointly with EPAM, launched the first online educational establishment IT Park University, where students can learn modern and sought-after IT professions. In 2022, IT Park University admitted 399 students, 84% (326 students) enrolling for a Bachelor's degree. The remaining 16% enrolled for studying IT basics.
In the second quarter of 2023, IT Park University is launching an international internship program, sending the first group of top students to Lithuania, Latvia and Poland.
With the support of the Ministry of Digital Technologies, IT Park has launched a program that allows receiving up to 50% offset for the amount spent on obtaining an international IT certificate. IT Park offers an offset for international certificates of such companies as "CISCO", "SAP", "Microsoft", "Google", "Coursera". In 2022, the number of the offset exceeded 500 certificates. Out of this figure, 15 percent of women, 85 percent of men obtained compensation.
Educational loans will be issued to young people who want to get an IT education but do not have the funds to attend courses. Moreover, graduates of educational institutions that are residents of IT Park can receive interest-free loans for the purchase of computer equipment.
In addition, in 2022, over 46 400 students received educational training in 205 IT Centers of IT Park. And the total number of students reached over 128 000. Also, throughout the state, over 33 000 civil servants completed advanced training courses in IT, over 17 000 of them completed advanced training courses in 2022.
IT Park's infrastructure
One of the last year's main news was finishing the first phase of construction of the IT Park complex. By September 2022, 6 office buildings, a conference hall and a parking lot with a capacity of 1 800 cars have been completed.
in 2022, IT Park established its branches in 2 regions: Kashkadarya and Khorezm. The total number of branches today makes up 11.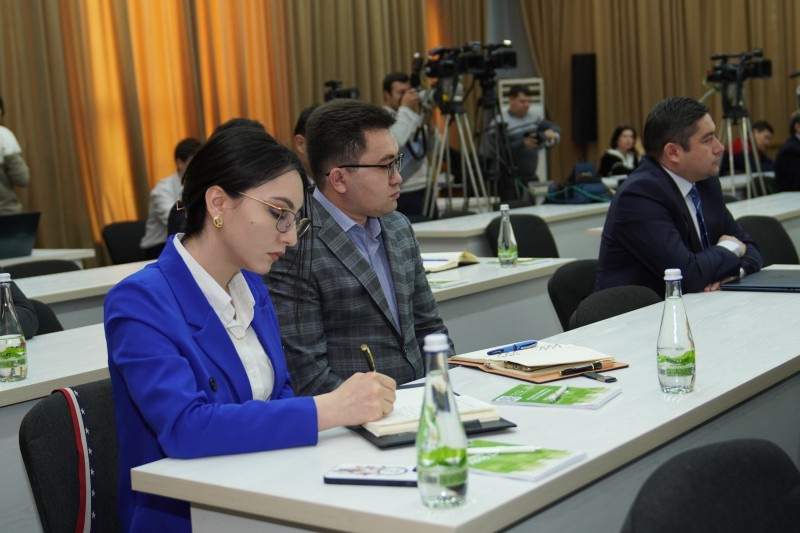 Aid programs
In addition, the IT Knowledge Development Center (IT Bilim) a funding organization and the Center's platform - bilgi.uz were launched. IT Bilim allocates targeted loans for the development of activities (for educational residents of IT Park) and training in IT specialties (for everyone), and the bilgi.uz platform was created with the aim of localizing all project participants, young people who want to receive knowledge in IT, including those in need of financial support; educational institutions; applicants (ministries, departments, commercial banks, etc.) and the funding organization itself in a single e-space.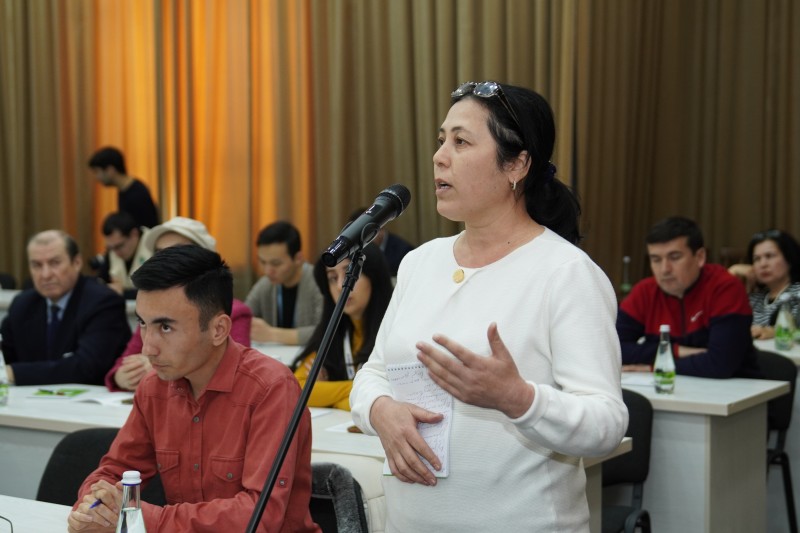 Startup ecosystem development
In addition, in 2022, a technology center for the global innovation platform "Plug and Play" established its office in Uzbekistan and announced the first call for application for participation in the accelerator, which was a massive event for the startup ecosystem of Uzbekistan. This accelerator is one of the first investors in such unicorn startups as PayPal, Dropbox, Shippo and others. In addition, Plug and Play cooperates with global corporations such as Mercedes Benz, Procter & Gamble, Bosch and others. Starting in March of this year, Plug and Play will run 2 acceleration programs each year that aims bringing local startups to global markets.
mGovAward, a contest among students and schoolchildren for the best mobile applications for public services successfully implemented jointly with the UAE Government brought together over 100 teams from all over Uzbekistan, and the first three ranks won a total of $100 000. The Uzbek project "Don't Waste" ranked 2nd among 1000 teams from across the world at the global M-Gov Award initiated as part of the World Summit of Governments and received an award of $136 0000.
As for investments, in 2022, startups managed to attract $15 million worth of investments.
Startups from Uzbekistan like Billz, Tass, Iman, Coozin, GrowyMe are actively expanding to international markets.
Aloqabank and AloqaVentures jointly implemented a corporate accelerator AloqaTechLab, which was attended by 52 startups, and as a result of the program, 7 companies received an investment proposal from AloqaVentures, and 3 of them (The Mind, Beautify, Cradle) have already received venture capital funding for a total of $250 000.
In addition to participating in the AloqaTech Lab, IT Park startups in 2022 took part in major international acceleration programs such as: 500 Georgia, Google for Startups, etc.
In general, over the entire period of IT Park's existence, 350 startups have taken part in incubation and acceleration programs, competitions and hackathons, there are 41 Incubation Centers currently functioning throughout the state, and over 1 400 events that took place.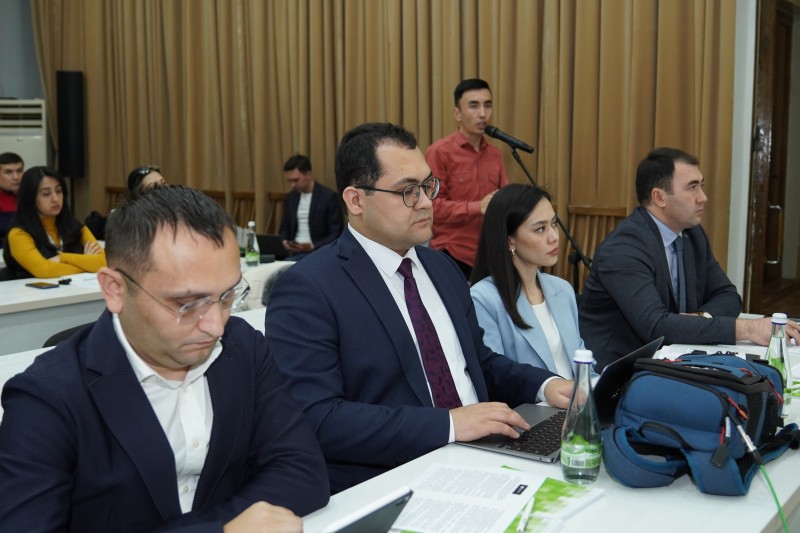 President Tech Award
The government of Uzbekistan puts particular emphasis on on startup industry. A new competition for the prize of Uzbekistan's President "President Tech Award" can confirm this aspiration.
The competition for the title of the best startup projects in digital technologies with $1,000,000 total prize fund will be divided into the main and special areas. The main direction includes 5 categories: "Technologies based on artificial intelligence", "Digital technologies in the social sector", "Technologies in IT and cyber security", "Entrepreneurship and financial technologies", "Computer and mobile games". The prize fund will be distributed as follows:
1. For each mainstream category:
1st rank - $100 000;
2nd rank - $50 000;
3rd rank - $30 000.
2. Hackathon Grand Prix (special area) - $100 000 (one winner). This is a unique and exciting opportunity for participants to create digital solutions within 72 hours.
Registration will open from May 1 to July 1 through the awards.gov.uz platform. Teams of 3-8 people (main area) and 3-5 people (special area) can take part in the contest.
Only citizens of Uzbekistan can take part in the main area, foreign citizens who are employees of IT Park residents are allowed to take part in the special area.
Participation is allowed only in 1 selected category of both main and special areas. Participation is free.
The evaluation process will be handled by an independent company with extensive international experience in startup development. The winners of the main areas of the contest will be determined by public voting, and the Hackathon – (special area) by an independent organization.
In order to ensure transparency and openness, all stages of this competition will take place on a special portal.
Residence in IT Park
The state continues to actively taking measures to develop the IT industry, attract foreign companies, and is making sure that conveniences exist for local companies.
Worth noting that from April 1, 2022, IT Park residents received additional benefits and preferences.
● professionals and investors, and foreign founders of IT Park residents are given the opportunity to obtain a 3-year IT Visa;
● the income tax rate on dividends from foreign founders of IT Park was reduced from 10% to 5%;
● attracting foreign professionals without obtaining permits for the right to work on the territory of Uzbekistan;
● the right to pay dividends and salaries to its foreign founders and specialists in foreign currency on debit cards as part of income from the export of works/services;
● a virtual office service, which enables organizing remote work for employees and frees the company from renting office space. In addition, the use of a virtual office is not a basis for classifying a company as a high tax risk.
A turnkey legal entity registration service "OneStopShop" has been introduced to create conveniences, which has already been used by more than 100 companies.
By the end of 2022, the number of IT Park resident companies reached 1122 (Tashkent - 804, regions - 318). These include: exporters - 324; BPO - 151; educational establishments - 207; companies with foreign capital - 165.
The volume of IT services provided at the end of 2022 made up 5.1 trillion UZS, the volume of exports – $140 million, services export out of this figure accounts for BPO which makes $65.1 million. The number of employees working in IT Park resident companies amounted to 18 000. In addition, in 2022, 17 BPO centers were established employing over 450 people.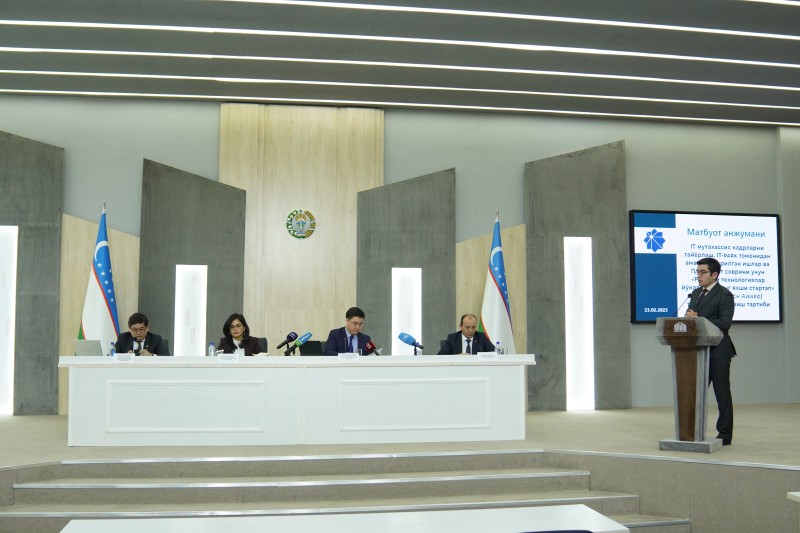 International cooperation
In February, IT Park launched a wide-scale TashRush relocation program with a number of free services (foreign companies and IT specialists are given support in opening legal entities and bank accounts, finding housing, offices and recruiting staff). Thanks to the program, more than 3 000 foreign IT professionals have relocated to Uzbekistan.
In parallel with TashRush, IT Park launched IT Visa. It gives no-hassle entry and exit to the territory of Uzbekistan for up to 3 years. At the end of 2022, the total number of considered applications made up 373. 250 applications received were from IT specialists, 117 applications – from the founders of IT Park residents, and 6 – from investors.
According to the expert council's conclusion, a total of 229 IT Cards (recommendations) were issued, providing for the subsequent receipt of an IT Visa for applicants: IT specialists - 163, founders of IT Park residents - 63, investors - 3).
The Western market does not stand aside either: on November 16, an IT Park representative office was opened in Heidelberg, Germany. Cooperation with German IT and logistics companies will help increase the export of IT services. At the moment, the organization is represented in the USA, Latvia and Germany.
In addition, jointly with the World Bank, efforts are being made on Uzbekistan Digital Inclusion project. The project is aimed at developing the BPO sector and creating additional jobs, and includes several components: educate Uzbek youth on developing digital and language skills necessary for employment, supporting BPO companies, moving forward infrastructure in regions, and promoting Uzbekistan as a new outsourcing location in the world market.
Plans for 2023
In January 2023, Tashkent hosted Open Data Challenge hackathon initiated by IT Park in conjunction with the OSCE Project Coordinator in Uzbekistan and the Virtual Group IT company with the support of the Statistics Agency under the President of Uzbekistan, the Anti-Corruption Agency and Akfa University.
Other events will also take place in startup ecosystem development. Students Cup is planned for February. The TumarisTech exhibition is scheduled for spring, and the President Tech Award will begin in May.
IT education does not stand aside. As part of the IT Education forum during the "ICT Week" in 2022, the Ministry of Digital Technologies of Uzbekistan, IT Park and Coursera Inc agreed on cooperating according to which, from 2023, 1.2 million people will be able to take online courses for free on 5 main IT areas on the Coursera educational platform. Furthermore, according to the draft document, the Uzbek side in 2023 will buy 10 thousand units of licenses that allow access to all the content of the platform. Depending on the group of users of the platform, IT Park provides the opportunity to purchase four types of educational packages:
● Bronze: course duration - 1 month, cost - 300.000 UZS.
● Silver: course duration - 3 months, cost - 750.000 UZS.
● Gold: course duration - 6 months, cost - 1.300.000 UZS.
● Platinum: subscription for 2023, cost — 2.000.000 UZS.
The project IT Bilim plans to provide financial support in paying for IT education to approximately 3 500 applicants (age limit:16 to 35) in 2023. The project will also financially support educational institutions that take responsibility in giving quality education and assistance in finding employment for scholarship holders who have completed their courses.
According to the project of compensation of international IT certificates up to 50% for the youth of Uzbekistan in 2023, over 3 000 certificates will receive an offset worth 4 billion UZS.
A program to be implemented in order to stimulate educational estabishments, as mechanism will imply significant payments to an educational resident for each employed graduate. As part of the implementation of educational projects, it is planned to create 1 000 new job opportunities for young people in Uzbekistan.
As for the volume of exports, in 2023 it is planned to increase the volume of exports of residents to $280 million. This will be possible due to the professional training, and an increase in the number of exporters.
IT Park will continue to work on strengthening the image of Uzbekistan as a Central Asian IT hub, including participation in international conferences and involving major international IT companies. In addition, in 2023 measures will be taken to promote Uzbekistan as a new BPO location, attract more BPO orders and BPO companies.
In order to increase the export potential, as well as to attract foreign IT companies to the Uzbek market, IT Park plans to expand the activities of residents by including creative industry (graphic design, web design, 3D design, visual design, motion design, etc.). Since the creative industry is developing rapidly becoming one of the sought-after areas, IT Park will support companies operating in this sector, and also plans to educate young people and offer high-paying job opportunities.