On September 18, 2020, the Digital City of Andijan region hosted presentations of significant projects implemented by the decree of the President of the Republic of Uzbekistan dated April 28, 2020, "On measures for the widespread introduction of the digital economy and e-government" within which the resident of IT Park RevoTech presented its project "Monterra".
The event was attended by the Deputy Minister for developing information technologies and communications of the Republic of Uzbekistan Kakhramon Yuldashev and khakim of Andijan region Shukhrat Abdurakhmonov.
During the event, the Director of RevoTech, Nodir Turdimatov, presented his pilot project "Monterra" to implement an online platform for analyzing satellite images of cultivated land in the Andijan region.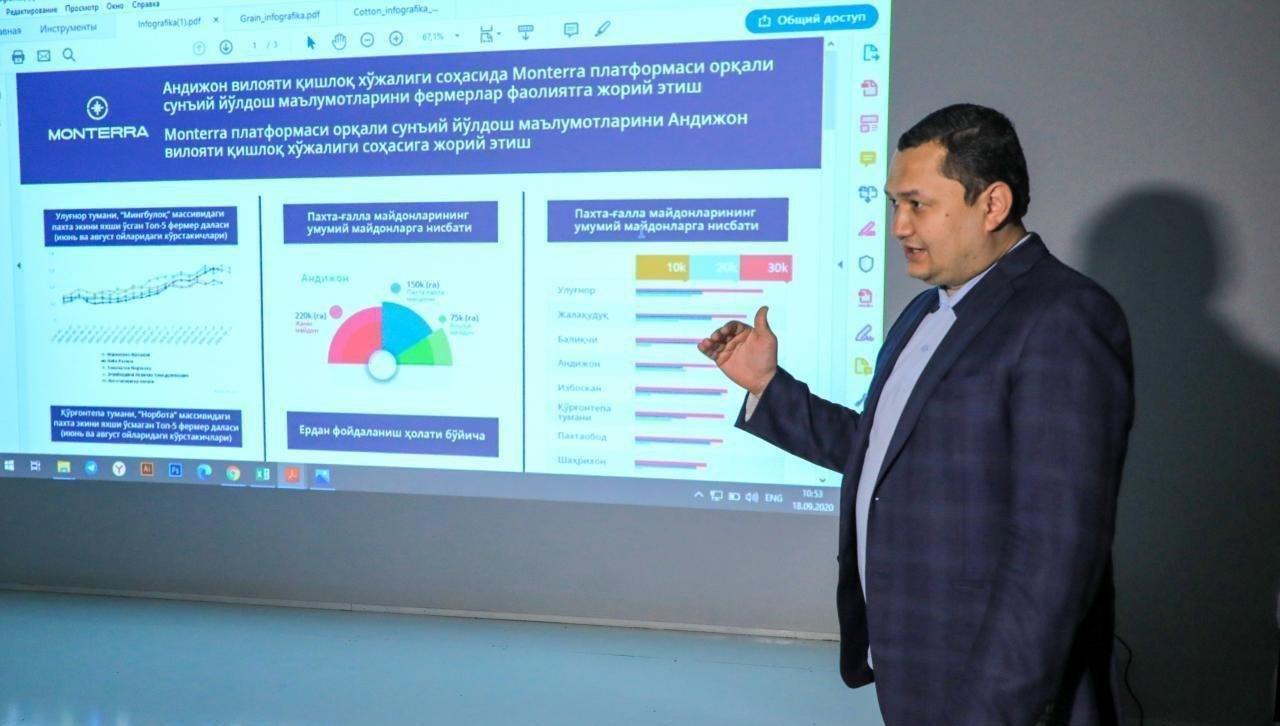 To date, this platform has been integrated with the "Land Information system" system of the cadastral Agency under the State Tax Committee. Work was also launched to generate analytical data on 145 thousand hectares of cotton and grain areas belonging to 7,879 farms, 64.74 percent of all sown land in the Andijan region.
To test the project initially, online monitoring of the sown cotton lands of 20 farms was organized on a pilot basis. During the monitoring process, recommendations were developed with the provision and analysis of important information about the problems of crop growth, the presence of foreign crops, the use of chemical, organic, and mineral fertilizers, the water supply of land, increasing their productivity, as well as saving resources.
This information helps improve crop activity, solve various problems related to the growth of lagging crops, develop fertile areas, prevent damage to the harvest and the environment through the rational use of chemicals, etc.
It is also worth noting that the platform gradually introduces data on more than 66 thousand hectares of land used for horticulture, animal husbandry, vegetable growing, rice growing, and fish farming.
The launch of the project will help generate analytical data on all acreage in the Andijan region with their provision to landowners.
The project also focuses on training. At the first stage, in October, the Andijan IT Park "Digital City" will begin training specialists to work with the implemented electronic platform, the "Information land system" program, and other geoportal resources.