Plug and Play Uzbekistan launched the First Acceleration Program for Uzbek startups
Orientation Day for the first Batch of 16 Startups was held on 18th of March at C Space Coworking Center.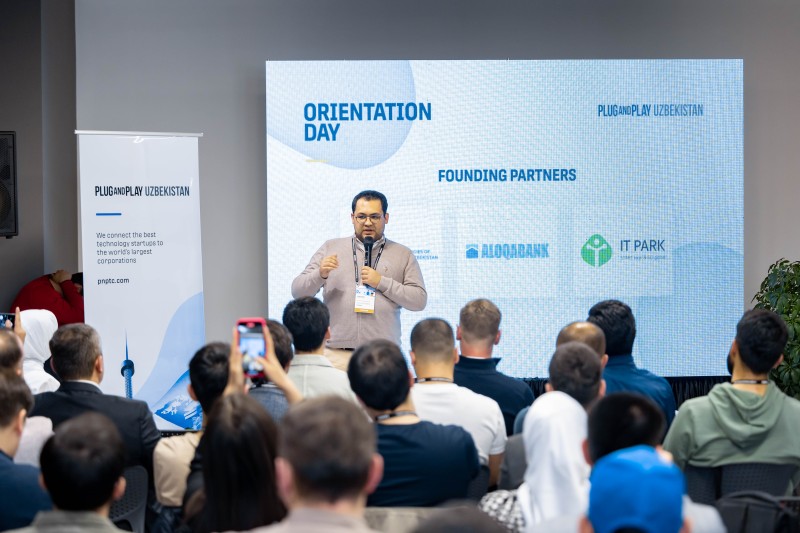 The event began with a welcoming speech by Co-Founder & Director Plug and Play Uzbekistan , Felix Lammers.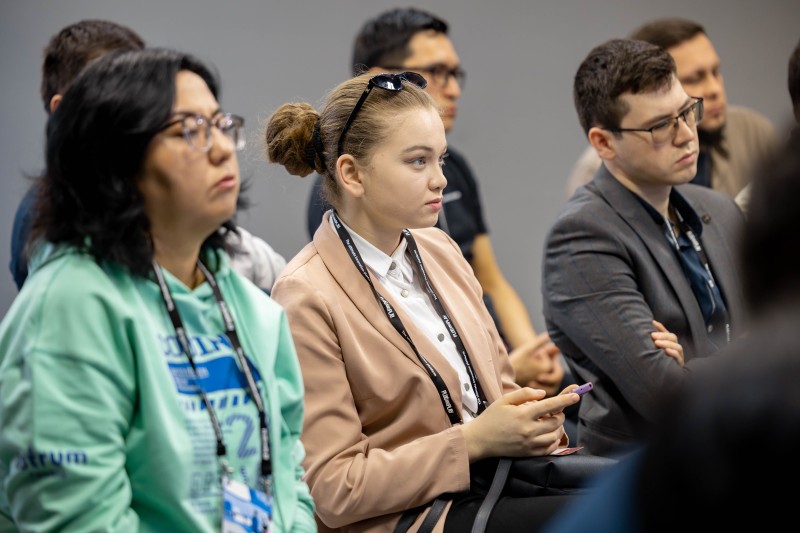 Introducing the Founding partners and expressed gratitude for their support and role for improving the startup ecosystems in Uzbekistan.
Plug and Play announced the structure of a 3-month acceleration program, for which more than 120 have applied for Selection. The applicants then went through screening, and diagnostics sessions, after which the recommendations were sent to VC Experts for evaluation.
After the evaluation process, 16 startups with the highest scores were chosen to participate in a 3 month acceleration program. On the 18th of March, the Orientation Day for the first batch of selected startups was held.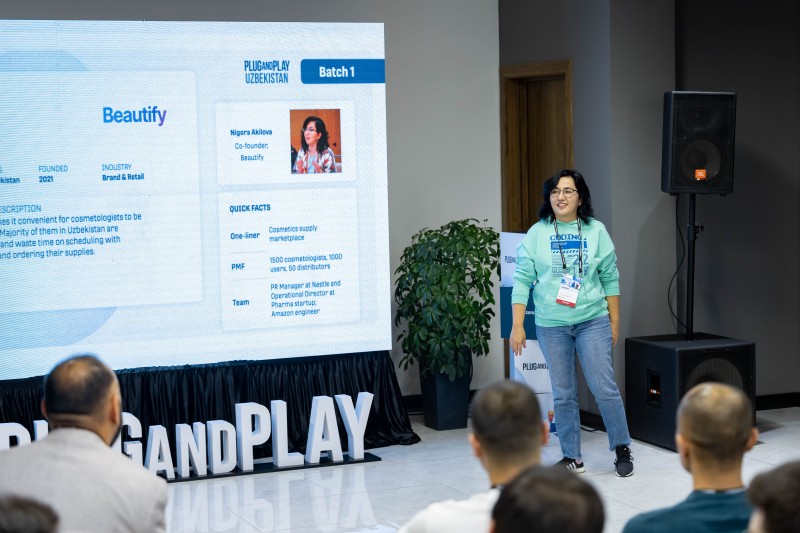 On the first half of the Orientation Day, Selected startups for acceleration program, which are focused on industries such as FinTech, InsurTech, Enterprise tech, and others were showcased.
After the showcase, there was a live session by Carolin Wais, Partner at Plug and Play Ventures, on the topic Benefits for Portfolio Startups, what are the main criteria to be selected for Acceleration program and experience and networking which Startups acquire by participating in it.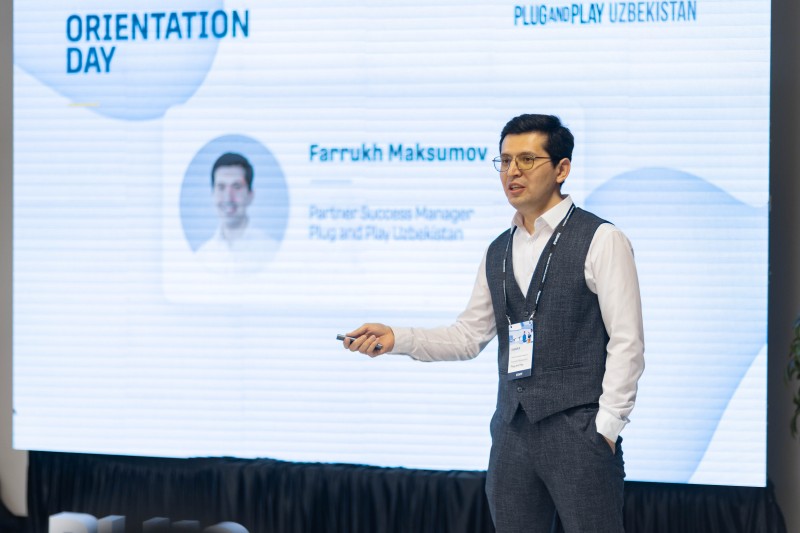 Moreover, another session on Partner-Startup Relationship was held by Plug and Play Ventures Director Stuttgart in Mobility, Theodora Preda, where she talked about the how this partnership works, and the types of interaction between a partner and a startup by talking about Mercedes Benz case, in particular, how an innovative solution model was implemented in production of Mercedes Benz cars.
The event was attended by 16 startup projects. Among them there are:
PivotAd is an Al-based ad platform that simplifies digital advertising for small to medium-sized businesses. They provide a comprehensive solution for automating the digital marketing process, including campaign setup, optimization, scaling, and reporting.
Royal Taxi offers ride-hailing to all cities in Uzbekistan outside of Tashkent.
KarmonPay is a mobile banking and payment system. They provide a secure payment gateway and a variety of features to help customers make payments quickly and securely.
Weltlink offers an asset management system for trucking companies to monitor their trucks and report on when to perform maintenance work.
TASS Vision - is a startup company specializing in computer vision based on artificial intelligence and embedded technologies. The company develops and implements technologies such as recognition, detection, tracking, and classification, which run on small embedded computers.
Sugurta Bozor is the first online insurance marketplace in Uzbekistan that allows users to conveniently buy car insurance in 3 minutes.
Uysot enables real estate developers to coordinate their sales, marketing, and accounting instead of using paper and spreadsheets. It offers instant contract generation for clients, integration with SMS and telegram to book viewings, bonus calculations for the team, and a mobile app for quick updates
Finiso offers the formation of financial analysis and management accounting services for medium and small business owners.
Didox is a business platform that helps enterprises from Uzbekistan interact with each other through purchases finding new customers, controlling finances, and exchanging documents. Didox is a dominant player in the enterprise software space with practically every business using them for document exchange.
Botcommerce creates an ecosystem of no-code integrated commerce tools that enable micro-merchants to launch their online stores on messengers quickly. start sales and accept payments.
Mazzami is a platform for the HoReCa segment that creates tools for businesses to interact with customers. They help to retain old customers, return lost ones and attract new ones.
Mohirdev is building an ecosystem for coding education for all ages. It offers a marketplace with over 30 skills-based coding courses. It has also made a CRM and LMS to help learning centers and universities launch their own coding boot camps. MohirPool enables students to realize the software role that fits their skills and receive training to secure a job. Uzbekistan suffers from a shortage of developers and instructors so their product has seen lots of demand.
Smartup is the leading ERP system for FMCG companies in Uzbekistan. It offers sales tracking, accounting tools, warehouse management, and HR tools to companies like Coca-Cola, Bayer, and Colgate.
Mento is a learning platform that personalizes the curriculum based on each student's tests. Schools don't adjust the curriculum to suit every student as they're unable to hardness test results. Mento utilizes Bloom's taxonomy and a data bank of 100.000 tagged questions that links to a specific topic that the student is struggling with and its severity.
Beautify makes it convenient for cosmetologists to be discovered. The majority of them in Uzbekistan are freelancers and waste time scheduling with customers and ordering their supplies.
The Mind is a corporate treasury management tool focused on enterprise service companies with $100k+ revenue. It's a cloud-based software that enables instant updates to comply with rapidly evolving regulations in Uzbekistan.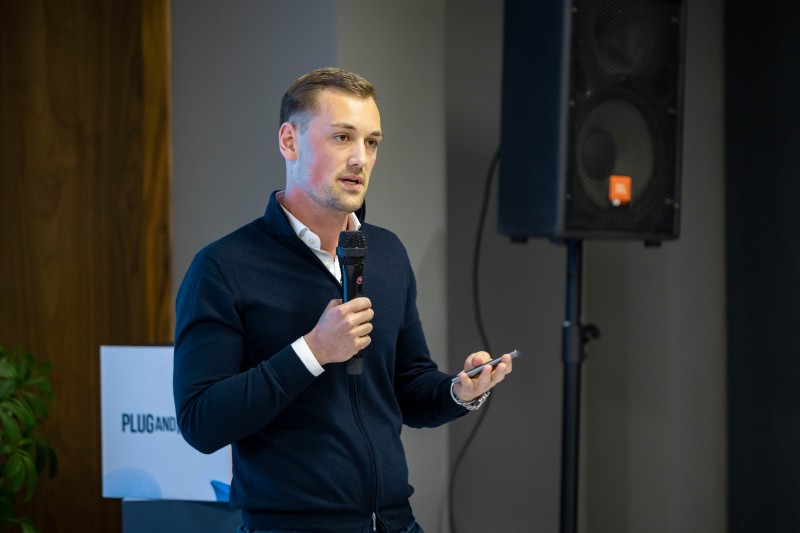 Guests of the event had an opportunity to receive first-hand information about each startup during the showcase and networking.