Uzbekistan hosts an online marathon 'IT Park REwind' in honor of the anniversary of the opening the first IT Park in Uzbekistan
On July 24, 2020, from 14:00 to 18:00, an online marathon will be held in honor of the anniversary of the opening the first IT Park in Uzbekistan.
The history began on this momentous day, which is still being built by adding new bricks of knowledge and experience. However, during the year of fruitful work, since its opening, IT Park has managed to achieve great success, contributing to the development and popularization of the IT sector in Uzbekistan.
To date, the residents of IT Park consists 398 IT companies, the volume of services rendered amounted to more than 670 billion soums, and the volume of exports is 11.2 million dollars. The total number of employees of resident companies is 4,046.
30 startup teams have completed their trainings at the IT Park incubation and acceleration programs.
Moreover, IT Park has implemented more than 40 projects and events, with a total prize fund of more than 2.5 billion soum, which includes two online Cybersports tournaments. The IT Olympiad on mobile robotics for school children 'Future Skills Uzbekistan' was also organized.
It is worth to mention, the project 'One Million Uzbek Coders', a free online platform, which was the main performer of IT Park. The uniqueness of this project is that everyone can learn the basics of programming in Uzbek for free. Nowadays, the platform has trained more than 60,000 users across the country. More than 5,000 users have already graduated from the project and successfully completed their trainings, laying the foundation in a particular IT specialty. In addition, there are more than 12,000 active members of the project's online community.
From the upcoming academic year, 'One Million Uzbek Coders' curriculum will be studied in schools and universities of the Republic. And at least 250,000 schoolchildren and students will be trained on the platform in the 2020-2021 academic year.
Coming to trainings, it should be noted that 30 IT Centers were opened throughout Uzbekistan, where more than 7,200 students studied. Additionally, more than 80 job opportunities and 116 online video lessons have been created in IT Centers. And by 2021, each district center of the country's regions will open its own IT Center, where they will teach the most necessary and relevant subjects of the IT world.
Furthermore, today in the IT Centers and IT Academies of IT Park, everyone can study in more than 10 areas, even in such new areas for our country as eSports and mobile robotics. IT Park itself will open its branches in every region of Uzbekistan.
Looking ahead a little, we can say that in the capital of Uzbekistan, IT Park will cover more than 6 hectares of land, where a complex of buildings will be located, which include: IT offices, IT hotel, IT laboratory, co-working centers, conference halls, and even an IT University.
As for the online marathon organized in honor of the opening of IT Park, on this eventful day, guests are able to see and hear how our highly respected speakers, successful IT entrepreneurs and freelancers, discuss and communicate on various topical and essential topics of the world of information technology, ask their questions and get no less interesting answers.
Speakers of the online marathon are:
Director Of IT Park - Farkhod Ibragimov;

Senior software engineer at Google – Nodir Turakulov;

Director of IT-Centers – Nodir Alibekov;

Chairman of Venture Capital Association of Uzbekistan – Dilshod Zufarov;

Co-founder of the technology entrepreneurship development company and a venture fund Startech.vc, StartupbootcampRussia and Russian accelerator in China-Vladislav Zdorenko (Russia);

Founder of VRonica, head of GamedevGoethe incubator - Akmal Salikhov and many others.
The online marathon is divided into two blocks, which each takes place at a certain time and includes several presentations and topics.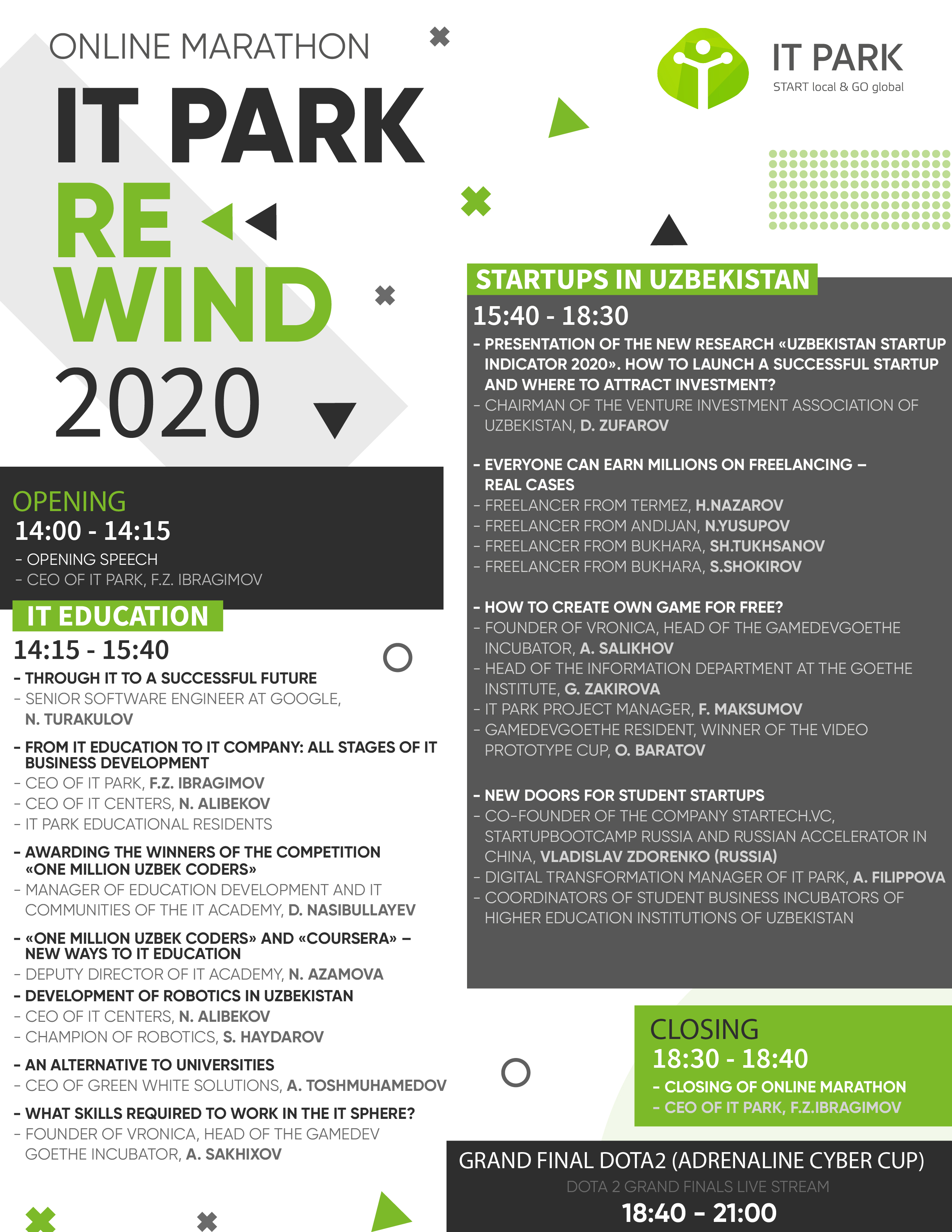 Block 1–'IT-Education' (14:15-15:40);
Block 2–'Startups in Uzbekistan' (15:40-18:30).

The online marathon will be held on July 24, 2020, from 14:00 to 18:00, with live streaming on the IT Park YouTube channel. Everyone can take part, only registration is required.

Youtube channel: https://www.youtube.com/channel/UCZWqg4oxo2PyLGuQifUbeqg

Registration: https://clck.ru/Pobvf